Friday, February 26, 2010 - 10:35pm
Bunning Blocks Jobless Benefits
He will probably get vilified in the press, but Senator Jim Bunning (R-KY) was the lone block vote against extending unemployment benefits. Of course, Bunning doesn't actually oppose the bill, but he does want Congress to actually tell us how they'll pay for the $10 billion package.
Washington still hasn't figured out that the fastest way to get people back to work is to stop giving them free money. Instead, they want to spend $75+ billion on a "jobs" program and another ten billion on unemployment extensions. Did I mention they don't even have the money to spend?
Unless they limit never-ending benefits, the unemployment rate will remain very high.
---
Tuesday, February 23, 2010 - 7:25pm
Heart Attack #5
Not that I wish a heart attack on anyone, but is there any chance Dick Cheney disappears from the spotlight now that he's suffered a 5th one? It was horrifying enough to stomach him as Vice President, but to constantly hear him whine about Obama is intolerable!
---
Wednesday, February 10, 2010 - 2:30pm
Absolutely Not!!!
An enormous billboard in Wyoming, Minnesota popped up along Interstate-35 the other day. It features a picture of George Bush and a message asking the public if we missed him yet. The billboard supposedly represents the discontent some folks have with President Barack Obama.
Are you freaking kidding me? While many of the decisions made by President Barack Obama are questionable, I would rather blow my head off than let George W. Bush back in office! He was called the Worst President Ever for a reason. Need I remind everyone of the torture, illegal wars, warrantless wiretapping, and big government policies he advanced.
I would like to thank the morons who paid for this supersized billboard. They have reminded us that no matter what President Obama does, he won't be nearly as bad as the last guy.
---
Tuesday, February 2, 2010 - 5:55pm
Obama's Budget
Despite having revenue of only $2.5 trillion, the federal government released a record $3.8 trillion budget for 2011. Rather than close the gap, the Obama administration budget plan calls for an increase in spending. Yes, you heard that right. In addition, President Obama would like to spend another $100 billion (that he doesn't have) toward a jobs program.
To pay for this, President Obama called for more tax hikes, proving yet again that he is a classic, tax-and-spend liberal. He continues to believe that big government is the answer to all problems, even if his standard stump speech claims the opposite.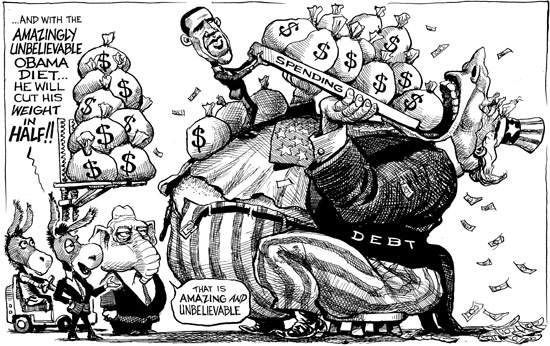 A high-tax, big government, nation will eventually lead to an economic collapse as the private sector becomes smaller and smaller. As our government takes more money away from corporations, these firms will hire less workers and unemployment will stay elevated. With a higher unemployment rate, the government will generate lower revenue and create higher deficits. It's only a matter of time before the country spirals into a great depression or bankruptcy.
Our Congress and this president are leading us into the abyss. If they can't cut spending across the board, the U.S. economy will never completely recover.
---