Thursday, June 26, 2008 - 10:28pm
Supreme Court Overturns D.C. Gun Law
In what I would describe as an unnecessary ruling, the Supreme Court ruled against the District of Columbia's longstanding ban on handguns. In a close 5-4 decision, the conservative justices decided that D.C. residents should be allowed to own handguns. Of course, just about everyone in Washington already has a gun, despite the 32-year old ban.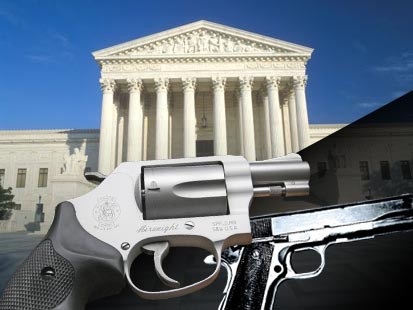 The District is one of the most dangerous cities in the United States. In the early 1990's it was known as the murder capital of America. Their annual murder count is 169 people. It's crime rate is currently ranked as 7th highest in the nation.
What this tells us is that the handgun law on the books for the last 32 years has been completely useless. If the law has actually been enforced, it would have been interesting to see if crime declined. I guess we'll never know.
It seems to me that the justices simply wanted to draw attention to the Second Amendment. The conservative justices believe the Second Amendment gives individual citizens the right to bear arms. The liberal justices believe that the gun rights written about in the Second Amendment apply solely to a well regulated militia.
Either way, nothing was solved today by the Supreme Court. People will continue to debate the interpretation of the Second Amendment and people will still get killed by handguns in Washington, D.C.
Perhaps the court can focus on cases that are actually relevant from now on.
---
Wednesday, June 18, 2008 - 10:59pm
Maine Senate Seat Up for Grabs
In a normal political environment, Republican Senator Susan Collins would have no trouble holding onto her position. She has served since 1997, is considered one of the most bipartisan Senators around, and she won the last election over Democrat Chellie Pingree by a comfortable margin of 17%. Unfortunately, we're not in a normal political environment these days as nearly all Republicans have been held responsible for George Bush's blunders over the last eight years.
There are two things working against the junior Senator from Maine. Ms. Collins voted for the war in Iraq and also voted against restoring habeus corpus last year.. The right of habeus corpus is an extremely important safeguard that protects the freedom of individuals against unlawful imprisonment.
These two major mistakes by Senator Collins allow an opening for her challenger, Democratic Congressman Tom Allen. Representative Allen is an attorney by trade and has served in Maine's 1st district for the past eleven years. He is very popular in his district and there are only two districts in the state.
Senator Collins' seat is considered a likely Republican hold, but recent polling has shown Congressman Allen closing the gap to within seven points. Allen has closed the margin from sixteen points to seven in a short amount of time, while pushing Collins' negatives up. If he continues to chip away at her lead, he could pull off a major upset.
If even Susan Collins is in trouble, the 2008 elections could bring a landslide victory for the Democrats. It is conceivable that the Democrats could hold 60 seats or more, which would give them unprecedented power.
---
Thursday, June 12, 2008 - 8:15pm
Shaking Up the Map!
The image below shows how the 2004 Presidential Election played out. The media has been focusing on just a few states that could change hands to determine the outcome of the 2008 Presidential election. However, Senator Obama is playing the game in a different manner and hopes to put many more states in play in order to win.
There is the potential of an electoral landslide victory for Barack Obama. He could realistically win 40 states in the general election! Looking at the map, he expects to hold all of the current 'blue' states and be competitive in Ohio, Indiana, Missouri, Iowa, Kansas, Colorado, Nevada, New Mexico, Montana, Virginia, North Carolina, Louisiana, Texas, Georgia, Mississippi, and Florida. With the amount of money and resources at Obama's disposal, he could win all of those states and perhaps a few more.
Even without Hillary Clinton's supporters on board yet, Senator Obama is already competing well in the aforementioned states against McCain. If the "working class" and white, female Democratic voters eventually unite behind Barack Obama, his polling could improve substantially from where it is today.
With George Bush's approval rating now at a historically low 28% according to Gallup, it will be extremely difficult for John McCain to detach himself from the President. If Obama is successful in labeling a McCain presidency as a third Bush term, this election won't even be close.
---
Saturday, June 7, 2008 - 7:05pm
A Great Day in America
The sociopath has conceded!!! We will finally have someone in the White House not named Bush or Clinton! Praise the lord!
---
Wednesday, June 4, 2008 - 6:45pm
There is No Prize for Second Place
Now that Barack Obama is the Democratic nominee, it is time to rid himself of HRC once and for all. He needs to put his foot down on her backward dealing to be his Vice President. She will never be the Vice President, no matter how much she demands it or threatens his candidacy. Senator Obama will not offer her the job, nor should he. The Clinton's have more baggage than any possible VP candidate and they represent corruption and the old ways of Washington. She shouldn't even be in the discussion. It would be a nightmare ticket.
Furthermore, Hillary's threats of civil war and telling Obama he can't pick a different woman to be VP ring hollow. If Barack Obama wants to pick Senator Kathleen Sebelius (D-KS) or Governor Janet Napolitano (D-AZ) or any other female, there is nothing the Hillary can do to stop him. The Clinton's have no leverage, no matter how many people voted for them in the primary.
If she behaves, Senator Obama may give her a prime time speaking slot at the convention and could allow her to lead the healthcare legislation in Congress. She really does not deserve either, but Obama is gracious and magnanimous. HRC lost this election in February and she knew it; yet she spent the last three months ripping Obama at every turn. She is a disgrace.
Besides, if Barack Obama offers Hillary the Vice Presidency, he is a dead man walking. If the Clinton's are one heartbeat away from the most powerful position on Earth, Bill will call in a favor and Obama will be gone. Don't be naive to think they aren't capable of such an atrocity. The Clinton's are pure evil.
Let's hope Obama squashes this ridiculous Hillary for VP story quickly and forcefully and moves in a new direction to make this country better.
---
Sunday, June 1, 2008 - 11:45pm
Girl Don't Go Away Mad, Just Go Away
The Democratic party continues to disappoint. The superdelegates could've ended this farce of an election a long time ago. Unfortunately, they continue to sit on the fence as Hillary attempts to destroy any chance the Democrats have of winning the White House.
Senator Obama needs only a few dozen superdelegates to end this game and declare victory. He will likely get the magic number (2,118) by Wednesday, but then Hillary will protest the 1/2 vote decision in Michigan and Florida. She will create any excuse she can think of to stay in the race.
The only way for Barack Obama to put Hillary out of her misery is to receive enough superdelegate endorsements to make a full seating of MI and FL irrelevant. That would take another 125+ delegates, but there are enough undeclared supers to get him there.
---
Political Critic - political blogs, conservatives, vlog, liberals, democrats, republicans, video blog, political opinion.