Sunday, November 29, 2009 - 10:47pm
Huckabee Pardoned Suspect in Cop Killings
The man wanted for questioning in the murder of four police officers at a Washington State coffee shop was previously granted clemency by former Arkansas Governor Mike Huckabee in 2000. The person of interest, Maurice Clemmons, had a long history of criminal activity in Arkansas when the Governor released him from prison.
Huckabee went against the advice of prosecutors and pardoned a man that had been convicted of five different felony charges. His only rationale was that the man was young (17) when the crimes were committed. Clemmons was serving a long sentence that likely would've kept him in prison for the rest of his life. Instead, Mike Huckabee decided to let him go. Clemmons has since committed a number of additional felonies.
The judgment of Mike Huckabee has to be questioned. This is a man who campaigned to be President of the United States just last year. How many other thugs has Huckabee released for idiotic reasons?
Now we have four dead cops. Even if Clemmons is not the killer, we need to take a long look at the unchecked power Governors wield that allows them to release hardened, violent criminals.
---
Saturday, November 28, 2009 - 11:00am
Secret Service Embarrassed
You can't even get into a good dance club on a Friday night without being on the guest list, so how in the world were two random strangers allowed entrance to an exclusive state dinner at the White House and then meet the leader of the free world?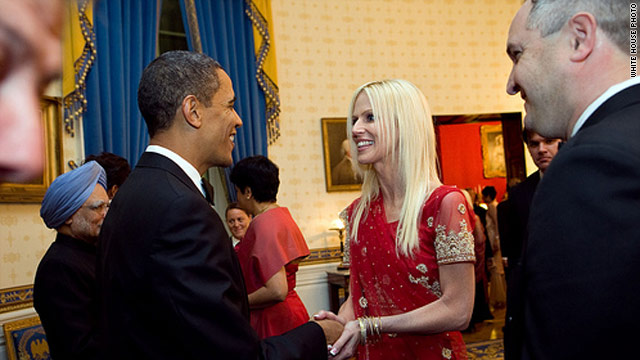 The Secret Service claimed they didn't pose a threat because they had made it through a magnetometer, but there are a hundred ways to kill someone. Just imagine if these two were KGB or spies from some other rogue nation. President Obama could've easily been murdered.
---
Thursday, November 26, 2009 - 10:25am
Giving Thanks
A special thanks goes out to all our troops serving their country overseas who can't be with their families on this day. Happy Thanksgiving!!!
---
Tuesday, November 24, 2009 - 10:45pm
Obama Finally Decides to Add Troops
Eight years have passed since the United States invaded Afghanistan, yet little progress has been made to root out Al-Qaeda terrorists and the Taliban regime that helps protect them. President Obama intends to "finish the job" America started back in 2001 by adding tens of thousands of soldiers into battle.
Let's hope this President does a better job in Afghanistan than the last dope in the job.
---
Monday, November 23, 2009 - 5:45pm
South Carolina Governor Charged
Embattled Governor Mark Sanford (R-SC) was charged today with an unbelievable 37 ethics violations!!! The South Carolina Ethics Commission determined that Sanford broke state ethics laws frequently during his time as Governor.
Not all of these violations surround his adulterous rendezvous with the woman in Argentina, although the panel charged him four times in conjunction with his disappearing act to South America. The commission also found that he used state aircraft for personal use on nine separate occasions. A book signing and a personal dinner in Charleston are just some of the examples Sanford's egregious use of South Carolina's airplanes.
The Governor also withdrew money from his campaign account and used it for personal use at least ten times. One instance was to pay for a hunting trip. Although the monetary amounts were small, they illustrate a continuous pattern of abuse by Sanford.
Despite Mark Sanford's egregious behavior, he is still the Governor of South Carolina. Considering that he refuses to step down, the state legislature needs to force him out of the position and quickly. He belongs in a tiny jail cell just like the former Governor of Illinois.
---
Sunday, November 22, 2009 - 10:15am
Filibuster Blocked
Democrats in the U.S. Senate were able to prevent a filibuster attempt by Republicans last night by a perfect party-line vote of 60-39. GOP Senators were trying to avoid debate on the health care reform bill. Debate is now set to begin after the Thanksgiving recess next week and could last weeks.
If nothing else, the two sides will now have a full-scale debate on this issue. Isn't that what we pay them to do anyway? Debate an issue and come to a resolution. It's not rocket science.
---
Friday, November 20, 2009 - 8:40pm
Unemployment Rises in 29 States
The Bureau of Labor Statistics is out with their monthly report of state unemployment and the numbers aren't getting much better. Twenty-nine states and the District of Columbia reported yet another increase in their jobless rate, while only thirteen states showed a decline. The State of Michigan remains in the worst shape with a 15.1% figure.
The good news is that most states showed only very slight increases or decreases. This could signify that a peak is near. However, for the economy to improve markedly, hundreds of thousands of jobs need to be created on a monthly basis.
Without a sharp turn in the jobs picture, the economy will continue to languish. Whether fair or not, the high unemployment rate will begin to reflect on President Obama and the Democrats, who control both Houses of Congress.
---
Wednesday, November 18, 2009 - 9:20pm
Health Care Cost - $894 Billion
Majority Leader Harry Reid's health care proposal will cost a stunning $894 billion, according to figures just released by the Congressional Budget Office (CBO). The cost would be spread over ten years, but would add to the $12 trillion debt the U.S. government already carries.
The Democrats will tell you that the bill will reduce the deficit by $127 billion over the same time period and $650 billion the following decade, but there is no confirmation of their numbers. They also argue that the plan cut health care costs by $1 trillion in the next ten years. Again, there is not yet verification from the CBO or any neutral third party.
If the CBO confirms the dollar figure claims the Democrats are throwing out, it could arguably be a decent health care bill. However, I find it hard to believe the CBO will come anywhere near those numbers.
---
Tuesday, November 17, 2009 - 10:15pm
Ex-Merrill CEO Defends Bonuses
Former Merrill Lynch CEO John Thain appears to be the lone man defending the massive bonuses paid out to Wall Street employees. The parasite argued that the payouts played no part in causing the financial crisis that nearly crippled the U.S. economy last year. Instead, the former executive blamed excessive leverage and poor risk controls for the disaster.
While Thain is technically correct on the root of the problem, he fails to mention the connection between risk-taking and bonuses. The two go hand-in-hand on Wall Street. That is the overriding culture, which is also very short-term in nature. Nobody on Wall Street is looking beyond next year's bonus. Why bother when the payout can be millions of dollars?
John Thain manipulated the system to steal $3.6 billion from the company and hand it over to hundreds of well-heeled Merrill Lynch employees. This was, of course, after he drove the company into the ground and was forced to sell to Bank of America. It's a shame nobody will prosecute this bloodsucker and throw him in jail.
---
Monday, November 16, 2009 - 10:33pm
President Talks Censorship...While Being Censored
Barack Obama fielded questions at a town hall meeting in Shanghai, China last night on a wide range of topics. He answered one question on Internet freedom, an especially important issue since the leaders in Beijing censor Facebook, Twitter, and countless other websites.
The question comes near the 54:20 mark of this video. President Obama stated his belief that the web should be accessible to everyone. Unfortunately, the authoritarian Chinese government doesn't quite hold the same view. Their team of censors blocked this broadcast on the Internet.
---
Sunday, November 15, 2009 - 11:45pm
Obama in China
For the first time as President, Barack Obama has arrived in China. He is there to talk trade, human rights, and religious freedom issues. However, Obama must make strides to not infuriate the leaders in Beijing. Since China holds the most U.S. debt in the world, our president needs to ensure the safety of the American economy.
If the president takes a hard-line with Beijing on any topic, they could do enormous damage to our economy in retaliation.
The American government has burdened us with massive debt over the past few decades, which has now forced us to suck up to the largest communist country in the world. Good job.
---
Saturday, November 14, 2009 - 9:49am
Congressman Gets 13 Years
Former Louisiana Congressman William Jefferson (D) was convicted on bribery charges yesterday and will go to prison for thirteen years. If you recall, this would be the slimy politician that hid $90,000 in cash in his freezer. The Democrat had eleven different bribery schemes in the works that could've brought him hundreds of millions of dollars.
Jefferson follows a long line of former Congressmen who have recently been convicted and sent to jail. Former Representative Duke Cunningham (R-CA) is behind bars for 8 years for taking bribes, Bob Ney (R-OH) received 2 1/2 years for similar actions, and James Traficant (D-OH) got seven years in 2002.
Such honest, respectable, and wonderful people we have representing this country, huh?
---
Thursday, November 12, 2009 - 8:27pm
October Deficit Highest Ever
The federal government posted a $176 billion deficit for the month of October, setting an all-time record. The Treasury Department took in only $135 billion, yet spent an astonishing $311 billion. It follows a recent, shocking pattern of spending more than double their revenue levels.
The budget deficit is now at 9.9% of Gross Domestic Product (GDP), the highest level since the end of World War II. That time period was followed by high inflation in the U.S.
At some point, the mounting debt and deficit will lead to higher interest rates and much lower economic growth. I don't know exactly where the tipping point is, but we're getting closer and closer every month. If Congress doesn't reign in spending and fast, we'll experience a double-dip recession from which we may not recover for decades.
---
Wednesday, November 11, 2009 - 5:25pm
A Day to Honor Veterans
President Obama attended services at Arlington National Cemetery today on a rainy Veteran's Day to pay tribute to those who have lost their lives in service to the United States.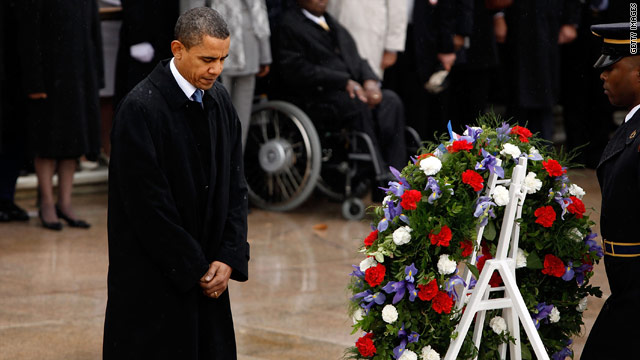 The day before, the President spoke at the memorial service in honor of those who were killed at the Fort Hood Army base in Texas.
The leader of the free world is also about to place another 40,000 men and women under his command in harm's way. Hopefully, these services will continue to give him pause as he takes action in Afghanistan, Iraq, and around the globe.
---
Tuesday, November 10, 2009 - 11:30pm
Health Care to Die in Senate
"Dead on arrival" is the phrase of the week as the health care reform bill makes its way to the U.S. Senate. Unlike House members who were able to move the government-run proposal through, the path is next to impossible in the Senate.
Despite the long odds, the White House has resorted to breaking out old fossils to help their cause. Former President Bill Clinton spoke to Senate Democrats today and warned them about the dangers that lie ahead if they don't pass the bill. Of course, he couldn't pass a health care plan when he actually was president, so why should we expect him to have any influence today?
Democrats will never get 60 votes with a government option included. They need to face this fact and move on. They are ignoring a whole host of other problems while running around in circles on this one.
---
Monday, November 9, 2009 - 9:30pm
40,000 More Troops to Afghanistan
According to CBS, President Obama will add nearly 40,000 soldiers to the war in Afghanistan and bring total U.S. forces up to 100,000. The bold strategy involves keeping forces in the country long-term and just about fulfills General McChrystal's request of additional troops.
Isn't it refreshing that we now have a leader who actually thinks about a decision before making it? Rather than pull a George Bush, President Obama actually spoke with top advisors for months about whether or not to send additional American troops into Afghanistan.
---
Sunday, November 8, 2009 - 5:54pm
Really?
Seth Myers and Amy Poehler summarize what many Americans think of Goldman Sachs. As if their image weren't bad enough, they have now received 200 doses of the swine flu vaccine. That would be ahead of hospitals and schools.
Goldman Sachs will now be able to vaccinate their high-paid executives....plus all those money-grubbing thugs with the monster bonuses.
---
Saturday, November 7, 2009 - 9:15pm
Health Care Bill to Pass Tonight
Democrats believe they have the 218 votes to pass the much debated health care reform bill. President Obama addressed members of the House earlier today to implore them to vote yes. He used his now standard phrases "this is our moment" and "answer the call of history."
Voting is expected to start at 10:00pm tonight with the 218th positive vote coming somewhere near midnight. Congressman John Dingell (D-MI), the longest serving member in the history of the House of Representatives, will cast the last vote on this (ahem) "historic" bill.
---
Friday, November 6, 2009 - 5:47pm
10.2%!!!
The unemployment rate for October came out this morning at 10.2%, the highest level in more than 26 years. This figure is not expected to improve any time soon, as economists expect the rate to increase over the next three to six months. A total of 190,000 jobs were lost in October, according to the Labor Department. It marked the 22nd straight month of declines.
If the jobless rate is this high when the mid-term elections come around next November, the Democrats are going to get crushed. They'd be lucky to hold onto the House and Senate.
---
Thursday, November 5, 2009 - 9:15pm
Congress Approves More Jobless Benefits
File this under more money the federal government doesn't have to give out. In a 403-12 vote in the House and a unanimous vote in Senate, the U.S. Congress approved additional benefits for the unemployed.
This bill would give the jobless 14 morre weeks of payments on top of the 75+ weeks of free funds they already receive from the government. Although each state is different, most have extended monies for the unemployed to at least a year and a half.
The unemployment report will come out tomorrow morning and is expected to have increased in the month of October. How exactly will the jobless rate decline if Congress continues to hand out money to people who don't work?
---
Wednesday, November 4, 2009 - 7:32am
Owens Wins in NY-23
Thanks to Sarah Palin and her lunatic wingnuts, Democrat Bill Owes has won a seat in a district that hasn't voted for a Democrat in over 100 years. It was Palin and her cohorts that shoved the moderate Republican out of the race in favor of Doug Hoffman, a far more conservative candidate.
What could've been a clean sweep for Republicans turned out to be just a decent night. After all, President Barack Obama and the Democrats just netted one more seat in Congress.
---
Tuesday, November 3, 2009 - 10:37pm
GOP Wins Virginia & New Jersey
As expected, Republican Bob McDonnell has won the Governor's race in Virginia over Creigh Deeds (D). The latest results shows McDonnell with an 18% victory.
In New Jersey, Republican Chris Christie has defeated Incumbent Governor Jon Corzine (D). Governor Corzine could not escape his ties to Goldman Sachs and his mismanagement of the state's economy. When you have the highest property taxes in the country and do nothing to reduce them, you're likely to be voted out of office.
The battle in upstate New York between Doug Hoffman (C) and Bill Owens (D) is extremely close. The polls closed at 9:00pm Eastern and thus far Owens has the early lead.
The vote on gay marriage in Maine is also very tight, with the good guys holding a 53-47 lead.
---
Monday, November 2, 2009 - 7:52pm
Election Eve Roundup
Republicans are hoping for a clean sweep tomorrow night as they appear strong in all three contested races. In Virginia's Governor election, Bob McDonnell (R) is poised to defeat Creigh Deeds (D) by a wide margin. Polling data suggest that McDonnell will win by more than 10% and could even approach a 20% victory margin.
The battle for New Jersey's Governor is much closer. Republican Chris Christie is in a dead heat with former Goldman Sachs executive and current Governor Jon Corzine (D). Polls show the race could go either way. The wildcard could be how many votes Independent Chris Daggett pulls away from the Republican Christie.
| Poll | Date | Sample | Christie (R) | Corzine (D) | Daggett (I) | Spread |
| --- | --- | --- | --- | --- | --- | --- |
| Monmouth/Gannett | 10/31 - 11/1 | 722 LV | 41 | 43 | 8 | Corzine +2 |
| SurveyUSA | 10/30 - 11/1 | 582 LV | 45 | 42 | 10 | Christie +3 |
| Quinnipiac | 10/27 - 11/1 | 1533 LV | 42 | 40 | 12 | Christie +2 |
| Rasmussen Reports | 10/29 - 10/29 | 1000 LV | 46 | 43 | 8 | Christie +3 |
| Stockton/Zogby | 10/27 - 10/29 | 1093 LV | 39 | 40 | 14 | Corzine +1 |
Thet last fight takes place in New York's 23rd congressional district. Under pressure from radical elements of her own party, Republican Dede Scozzafava dropped out. This gave conservative Doug Hoffman the inside track to win. However, Scozzafava has endorsed Democrat Bill Owens and is campaigning with him in the final hours.
Conservatives could easily win all three elections. If that does happen, they will scream and holler that the political landscape has changed dramatically. Of course, they would be wrong.
At the end of the day, it's only three elections and none of them would be major surprises. Corzine and Deeds are merely bad candidates, while NY-23 is a conservative district that Republicans should win with their eyes closed.
The "upset" would be if Jon Corzine holds onto his seat or if Democrat Bill Owens somehow squeaks out a victory in upstate New York. Corzine was down double-digits just a few months ago and NY-23 hasn't seen a Democratic representative in decades.
---
Sunday, November 1, 2009 - 9:40pm
CIT Goes Under
Commercial lender CIT Group Inc. filed for bankruptcy Sunday night after failing to reduce their massive debt load. This would be the same corporation that our brilliant federal government gave $2.3 billion earlier this year. The bankruptcy will be one of the largest in U.S. history, behind only Lehman Brothers, Enron, GM, and Washington Mutual.
The Treasury Department is unlikely to recover any of the $2.3 billion in taxpayer funds. Yet another example of how government interference in capital markets doesn't work.
---