Saturday, October 31, 2009 - 3:50pm
Scozzafava Quits
I guess we know who controls the Republican Party. GOP candidate Dede Scozzafava has dropped out of the race in New York's 23rd Congressional district to clear the way for the Conservative Party candidate Doug Hoffman.
Scozzafava was ousted by radical conservatives for being not conservative enough, despite being in favor of low taxes and a smaller government. Nuts like Sarah Palin, Rick Santorum, and Michelle Bachman helped shove the moderate Republican out of the upcoming election.
Is this the end for moderates in the GOP? The party is clearly moving further right and isolating themselves from mainstream America. This will only hurt the party in the long run as independent voters will be forced to vote for Democrats.
---
Friday, October 30, 2009 - 9:30pm
Nobody Cares
Vice President Joe Biden finally told the mainstream media what they needed to hear. Nobody cares what Dick Cheney has to say. CNN and others have obsessed for months about what the former VP (and traitor) thought about President Obama and the new White House.
Cheney left office with a miserable 13% approval rating. He is despised by the vast majority of Americans and the world, yet the braindead media continues to give him a voice to spew his nonsense. No wonder CNN's television ratings are at rock bottom.
---
Thursday, October 29, 2009 - 9:55pm
Higher Taxes for Healthcare
The dirty little secret of the healthcare legislation is the enormous tax Congress will stick to the "rich". The bill presented by the U.S. House of Representatives will impose a painful 5.4% tax on individuals earning $500,000 or more. This is, of course, in addition to the vastly disproportionate taxes these hard-working Americans already pay.
This has always been the strategy of the Democratic Party. Rather than balance the budget (heaven forbid), their solution to all problems is to tax the rich. It is a ridiculous and pathetic approach that does nothing except increase the size of our government.
Not that we should be surprised, but the Democrats want to punish Americans for being successful. Perhaps they should figure out what programs to CUT instead of finding new ways to pilfer our money.
---
Wednesday, October 28, 2009 - 10:08pm
Homebuyer Tax Credit Extended?
Third quarter U.S. Gross Domestic Product (GDP) will be released tomorrow morning and the figure is expected to be positive for the first time since the second quarter of 2008. While this may sound like good news, much of this growth is attributable to artificial incentive measures from the federal government.
The first enticement in Q3 was the Cash for Clunkers program. Hundreds of thousands of cars were sold, but not before the administration handed over $4,000 to each buyer. This pushed the U.S. further into debt. Not surprisingly, auto sales plunged after the incentive ended.
Lawmakers also tempted consumers into buying houses with an $8,000 first-time homebuyer credit. Sales of homes increased, but again to the detriment of taxpayers. A higher deficit followed. The credit is set to expire on November 30th, but our moronic Congress is actually looking to extend the program.
Tomorrow's GDP number will prove we are moving out of recession, but only because politicians decided to dig the hole a little deeper. It is not a sustainable strategy. Market forces need to take over without assistance from government officials. Until that happens, our economy will continue to languish.
---
Tuesday, October 27, 2009 - 9:35pm
Colbert on Gay Marriage
The State of Washington recently passed a much-needed law expanding the rights of gay and lesbian couples. Unfortunately, a radical group called "Protect Marriage Washington" sought a referendum on the ballot to overturn the law.
Stephen Colbert decided to weigh in on this controversial issue. I couldn't agree more.
The Word - Don't Ask Don't Tell
The good news is that opposition to gay marriage is fading fast. These fringe groups are just that; outside of mainstream America and becoming smaller and smaller. No matter how much they protest, gay marriage will eventually be legal throughout the United States.
---
Monday, October 26, 2009 - 10:20pm
Public Option Back on the Table
How long does it take Democrats to pass healthcare legislation? They've been talking about it for months now and have accomplished nothing. The public option is off the table; no wait, it's back on...until it isn't.
Senate Majority Leader Harry Reid (D-NV) today announced the government-run healthcare option would be placed back in the merged bill. Of course, he'll be sure to take it out if he doesn't get enough votes.
How many other problems are the Democrats ignoring in order to get this bloated proposal through? In the end, this plan won't actually fix the issues we have in the healthcare system. It will simply raise our taxes and create another government program that doesn't work. Shocking, I know.
---
Sunday, October 25, 2009 - 12:00pm
GOP Splitting Votes in NY-23
The heated congressional race in upstate New York's 23rd district is showing the deep divide within the Republican party. A district that should clearly stay in the GOP's column is now in doubt as Conservative Party candidate Doug Hoffman is drawing 23% of the vote. As a result, Democrat Bill Owens is leading in the last two polls.
| Poll | Date | Sample | Owens (D) | Scozzafava (R) | Hoffman (C) | Spread |
| --- | --- | --- | --- | --- | --- | --- |
| Daily Kos/R2000 | 10/19 - 10/21 | 600 LV | 35 | 30 | 23 | Owens +5 |
| Siena | 10/11 - 10/13 | 617 LV | 33 | 29 | 23 | Owens +4 |
Hoffman was recently endorsed by wack-job Sarah Palin over Republican Dede Scozzafava. The backing created a major infusion of cash into Hoffman's campaign reserves and he now looks able to compete in a three-way race.
Palin's support may backfire as Doug Hoffman is much more likely to take votes away from Scozzafava than Owens. This is especially true considering that other lunatics such as Michelle Bachman and Rick Santorum have also endorsed Hoffman.
New York's 23rd congressional district has voted overwhelming Republican for well over a decade. In the last seven elections, the Republican candidate has received no less than 60% of the vote. However, thanks to Sarah Palin and a few other nuts, the seat may go to a Democrat.
---
Saturday, October 24, 2009 - 2:30pm
H1N1 Emergency
President Obama has declared a national emergency for the swine flu. More than 1,000 people have died and 20,000 hospitalized since the pandemic started in April of this year. The move by the president will allow health care facilities waive different requirements that typically slow down the emergency plan process.
Unfortunately, there are only 16.1 million doses of H1N1 vaccine available, with 11.3 million distributed throughout the country. This compares to a current U.S. population of 304 million. The target production level of the H1N1 vaccine is 120 million doses in the short-term, but the government has stated that delays have made that goal unreachable. Hopefully, the virus won't spread any faster than it already has.
---
Tuesday, October 20, 2009 - 9:50pm
All Tied in New Jersey
The contentious battle for Governor of New Jersey appears to be a dead heat in the latest polling. Incumbent Governor Jon Corzine (D) is fighting Chris Christie (R) and independent Chris Daggett to retain the seat. Unfortunately, the former Goldman Sachs executive has been using all his "hard-earned" money to engage in gutter politics against his opponent.
The attacks have been ugly and are getting worse. Corzine recently targeted Christie's weight and ran television commercials poking fun at Christie's extra pounds. The two have also exchanged barbs over lying, mothers, loans, and mammograms.
The fat jokes are clearly over the line. They demonstrate that Corzine has no class. Such low-ball tactics prove that Corzine is not worthy to be Governor of any state. Perhaps he should return to Goldman Sachs and steal work for a huge bonus.
---
Sunday, October 18, 2009 - 12:15am
Kerry Plays President
Senator John Kerry has decided to publicly caution President Obama against sending additional American troops into Afghanistan. Rather than wait for the president to make a decision, the camera-whore couldn't resist taking a position that may run counter to the leader of his party. The last thing President Obama needs is for a senior Democrat to get on national television and caution him on an important military matter. Someone should tell the good Senator from Massachusetts that he is not, and never will be President of the United States. The decision is not his to make...thank god.
---
Thursday, October 15, 2009 - 5:40pm
The Most Powerful Senator
Senator Olympia Snowe (R-ME) has quickly become one of the most important players in all of Washington. As the most moderate Republican in the Senate, Snowe is who the White House and Democrats turn to in order to get bills passed. She arguably holds the fate of healthcare reform in her hands right now.
With Snowe's vote in favor of the Baucus healthcare bill, Blue Dog Democrats have political cover to vote for the proposal and the left can also claim bipartisanship (albeit just barely). Despite representing one of the smallest states in the union, Democrats have been bending over backwards to please the Senator from Maine. As a result, she has been able to push items into the bill that nobody else on the Hill has been able to.
Working with the other side also allowed Senator Snowe to greatly influence the $800 billion stimulus plan that passed earlier in the year. While most Republicans refused to negotiate with Democrats, Snowe stepped up and was able to change significant parts of the legislation.
You know you're important when other Congressmen whine to reporters that we live in the United States of America and not the United States of Maine.
---
Monday, October 12, 2009 - 9:15pm
The Great Recession - Over?
Economists are officially declaring the end of the recession of 2008-2009. The deepest decline in economic growth since The Great Depression has now concluded. However, the forecast for the next few years is not exactly optimistic.
An extended period of high unemployment, weak growth, and stagnant wages are very likely. Inflation, a depreciating U.S. dollar, and rising interest rates are also distinct possibilities. Most Americans will not feel any economic benefits for years to come.
Normally the government could help speed up the process, but they have amassed record deficits that will take at least a decade to correct. They will have little power to stimulate job growth or increase economic activity.
---
Sunday, October 11, 2009 - 10:30pm
A Little Less Talk...A Lot More Action
Our president was back at it again last night, making a beautiful speech at the Human Rights Campaign about how he will end the "don't ask, don't tell" policy with respect to gays in the military. The part he left out, of course, is when he will repeal the discriminatory practice.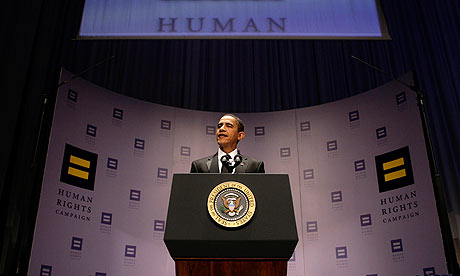 The last time I checked, President Obama was the Commander in Chief. He can do whatever he wants with respect to gays and lesbians in the military. If he really wanted to abolish the policy and let everyone serve openly, he could literally do it right now.
I'm detecting a pattern with this new president. Long on promise and short on delivery. Let's hope he stops making speeches and starts actually fulfilling some of the many pledges he's been making.
---
Friday, October 9, 2009 - 6:00pm
The Nobel Peace Prize.....Really?!?
President Barack Obama has accomplished many things in life, but he has done literally nothing to deserve winning a Nobel Peace Prize. The United States still holds prisoners at Guantanamo Bay, they occupy the sovereign nation of Iraq, and they're fighting Taliban and Al-Qaeda in Afghanistan. You can argue the merits of each, but none is correlated with the term 'Peace'.
Receiving this prize is not the fault of Barack Obama; rather it is an indictment of the Nobel prize itself. No sitting American President has ever won the Nobel Peace Prize in his first term, let alone in the first nine months in office.
Theodore Roosevelt and Woodrow Wilson received the award in their second terms, but only after extremely significant achievements. Roosevelt mediated the end of the Russo-Japanese war and Wilson created the League of Nations.
Even Barack Obama fans would acknowledge that the President received this award on the expectation of future peace efforts and not anything he has actually accomplished.
It's a sad day when the Nobel Peace Prize is diminished in stature, but that is the case today.
---
Thursday, October 8, 2009 - 6:55pm
Senate Delays Benefits Extension
The bill from the House to extend unemployment benefits to states with a jobless rate above 8.5% has been slowed down. Senators from states with rates below 8.5% are feeling left out and demanding a slice of the pie.
The Senate should focus on killing this dreadful bill entirely, but that is increasingly unlikely. Unfortunately, a compromise will be reached to appease everyone. You can be sure that whatever the final proposal turns out to be, it'll cost the taxpayer even more money.
---
Tuesday, October 6, 2009 - 4:45pm
Tom Delay Quits
He was a train-wreck as Majority Leader in Congress and his dancing career didn't fare much better. Citing stress fractures, Mr. Delay has decided to quit Dancing With The Stars.
Typical politician...drop out of the race when you realize you got no shot at winning.
---
Sunday, October 4, 2009 - 3:30pm
A Harsh Critique
I couldn't have said it any better myself.
President Obama has accomplished one thing. He passed a massive, pork-barrel spending plan. It was billed as an economic stimulus initiative, but that couldn't be further from the truth. It's really just a bunch of outlandish pet projects from the Democrats.
---
Saturday, October 3, 2009 - 1:30pm
Obama Argues Job Growth from Healthcare Bill
In his weekly radio address, President Barack Obama linked joblessness to the passing of his healthcare plan. His argument was that people with health insurance at their current employer are afraid to take the leap of starting a new business since they don't carry that insurance over.
This is a ridiculous contention of course. Hundreds of thousands of small businesses have been established in the last century in America without universal healthcare coverage. It's really apples and oranges. One has virtually nothing to do with the other.
I think this President is getting desperate if he really believes passing his government-run healthcare plan is an effective way to increase small business employment.
When President Obama worked to pass his $800 billion stimulus spending bill earlier this year, he traveled around the country scaring the public into believing the world would end if Congress didn't pass his spending proposal. Now he's making a similar, off-the-wall argument.
Is it just me, or is it reckless and irresponsible for the leader of the free world to fill people's heads with such nonsense?
---